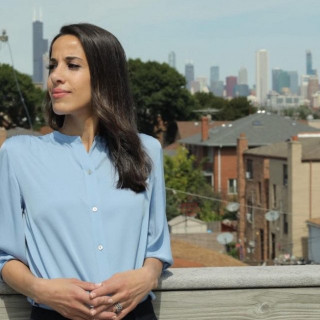 Sarah Gad
Criminal Law, Appeals & Appellate, Immigration Law
Minnesota
Claimed Lawyer Profile
Q&A
Sarah Gad is a founding partner of Gad & Gad Law Offices in Minneapolis, Minnesota, which specializes in criminal defense, wrongful convictions, and immigration advocacy. Sarah is known nationally for her commitment to fighting for justice — and seeing justice prevail in courtrooms across the country.

Before relocating to her home state of Minnesota, Sarah worked for celebrity attorney Kathleen Zellner in Chicago. She played a pivotal role in several high-profile cases, including Mario Casciaro's exoneration and Steven Avery's appeal from the Netflix series Making a Murderer. In 2019. Sarah also represented Lil Durk's brother in a drug-related matter and single handedly got the entire case dismissed on 4th Amendment grounds. In 2019, Sarah received the University of Chicago Humanitarian Award for her work as a law student in uncovering dozens of fake stash houses that exonerated 13 men in Chicago's South Side of Chicago.

That' not all: after being injured in a car crash in 2011, Sarah herself became addicted to the pain medication that she was prescribed. After being criminalized for her addiction, thrown in jail for it, and stigmatized with a "criminal" record, she decided she had no choice but to fight back. She attended the University of Chicago Law School—one of the top law schools int he country—and she now fights for her clients in the exact same courtrooms that she was handcuffed and shackled in years ago—and most importantly, she often prevails.
University of Chicago

J.D. (2020) | Doctor of Law
-
University of Minnesota - Twin Cities

B.S. (2009) | Chemistry, Microbiology
-
Honors:

Summa Cum Laude Highest Distinction
Founding Partner

Gad & Gad Law Offices

- Current
Assistant Attorney

KNN Law Offices

-
Forensics Director; Associate

Law Offices of Kathleen T. Zellner & Associates

-
First, Do No Harm? Opioids as an Iatrongenic Epidemic

, Tulane Medicine Grand Rounds

, New Orleans, LA

Tulane University Medical Center
Countering the Global Narcotics Epidemic: The U.S. Counternacotics Strategy

, Caucus on International Narcotics Control

, Washington, DC
Prisoners Eligibility for Pell Grants

, Congressional Black Caucus Briefing

, Washington, DC
Prisoners Are Patients: The Unconstitutionality of Criminalizing the Disease of Addiction

, Medical Grand Rounds

Virginia Hospital System
Keynote Speaker

, National Muslim Law Students Association

, Chicago, IL
National Criminal Justice Commission Act

, Senate Judiciary Committee

, Washington, DC
Criminal Law Specialist

Minnesota Society for Criminal Justice
University of Chicago Law School
Recipient of the 2019 University of Chicago Humanitarian Award for pro bono legal work.
Professional Associations
State Bar of Minnesota

&nbsp# 0403328

Member
Current
Jurisdictions Admitted to Practice
Minnesota

Minnesota Supreme Court
ID Number: 0403328
Free Consultation


All consultations for potential clients are free of charge.

Credit Cards Accepted


We accept all major credit cards, including Visa, Mastercard, Discover, and American Express. We also accept Apple Pay.

Rates, Retainers and Additional Information


Our firm has a fixed fee for different types of services. We also offer an a sliding scale payment system for low-income clients.
Criminal Law

Criminal Appeals, Drug Crimes, Fraud, Gun Crimes, Sex Crimes, Theft, Violent Crimes

Appeals & Appellate

Civil Appeals, Federal Appeals

Immigration Law

Asylum, Citizenship, Deportation Defense, Family Visas, Green Cards, Immigration Appeals, Investment Visas, Marriage & Fiancé(e) Visas, Student Visas, Visitor Visas, Work Visas
Arabic: Spoken, Written
English: Spoken, Written
Q. can a person be deported if they were born in other country and adopted by US citizens as a baby?

A: This might seem odd, but the answer really boils down to one question: did your friend turn 18 before or after February 28, 2001 at 12:00 a.m.? If your friend turned 18 after this February 28, 2001 cut-off, (or was born after February 28, 1978 at 12:00 a.m.) he should be able to acquire citizenship through this adoptive citizen parents without issue. If your friend turned 18 on or before February 28, 2001 before 12:00 a.m., then he will have a much trickier time establishing his claim to U.S. citizenship. This cut-off might seem unusual, but here is why this matters: The immigration and Nationality Act (INA) is the body of laws governing immigration and citizenship. Embedded in the INA is a provision called "The Child Citizenship Act of 2000" that governs how foreign-born children may derive U.S. citizenship from their parents. The CCA is not the most empathetic body of law, but it keeps evolving to become more inclusive. Unfortunately, the changes that would benefit people like your friend are not applied retroactively. The most recent iteration of the CCA was passed in 2000, but did not go into effect until February 28, 2001 at 12:01 a.m. Because the law is not retroactively applied, it only applies to foreign-born adoptees who were still children at the time the new version went into effect (those <18 years old after Feb. 28 2001 at 12:01 a.m. or later). Basically, the CCA of 2000 states that a child born outside of the United States automatically becomes a U.S. citizen when all of the following conditions are met: (1) At least one parent of the child is a citizen of the United States, whether by birth or naturalization; (2) The child is born no earlier than February 28, 1983 (or has not attained the age of 18 on or before February 27, 2001 at 12:01 a.m.); (3) The child is residing in the United States in the legal and physical custody of a parent who is a U.S. citizen; and (4) The child is residing in the United States pursuant to a lawful admission for permanent residence. Unlike the 2000 version, the previous version of the CCA (passed in1983), did not have a direct route to citizenship for foreign-born children adopted by U.S. citizens. This all might seem arbitrary and unjust, and that is because it is. This statutory cut-off literally means that two similarly situated foreign-born children adopted by U.S. citizens and born moments apart—one on February 27, 1983 at 11:59 p.m. and one on February 28 at 12:01 a.m.—will receive staggeringly different treatment under the law. The former will not be able to derive citizenship from adoptive parents, whereas the latter will—simply because one was born before the date the new law went into effect and vice versa. So if your friend turned 18 on or after February 28, 2001 at 12:01 a.m., he is eligible for automatic derivation of citizenship—and all of the rights, protections, and benefits that stem therefrom—from his native-born adoptive parent(s) and could murder someone without the threat of deportation because you cannot deport a U.S. citizen. I am guessing that your friend does not meet the statutory cut-off the CCA of 2000 or DHS/USCIS would not be contesting his claim to citizenship based on drug-related crimes (or any crimes, for that matter). I hope this answers your question. I am very sorry to hear about your friend. Hopefully he has a good immigration attorney who can find a path to resolution (or better yet, citizenship). Best wishes to you all.
A: Generally speaking, if a police officer has probable cause to believe that a car has drugs or other contraband, then they are permitted to stop the driver of that car and search it without a warrant. This means that they can temporarily detain you and bring in K9 dogs, etc. while they search you—and they may do so without a warrant. If the police have NO probable cause to search your vehicle (i.e., they pulled you over for a broken tail light and there is nothing in plain view to suggest that your car contained contraband), only then must they obtain your consent to search it. You always have the right to refuse search requests under the Fourth Amendment, but the police may go ahead and do so anyway if they feel they have probable cause. Probable cause is a very low burden, unfortunately—but that does not mean that the search cannot be challenged as illegal. Police are not exactly constitutional scholars, and illegal searches happen all the time. Any good lawyer should closely examine the circumstances surrounding the stop and determine whether the stop and search was illegal. If it turns out that it was an illegal search, then the lawyer should move to suppress any any contraband that was discovered during the illegal stop. This is known as the "fruit of the poisonous tree" doctrine. It's not clear from the information you provided why the police elected to stop your car if it was red and the tipster said it was blue. But, they must explain that in their report—in other words, they must explain what gave them the probable cause to believe that you were involved in the drug deal when you were driving a red car vs. a blue car. If they cannot provide a satisfactory explanation as to why they pulled you over in the first place, then your lawyer should challenge the stop and search as unconstitutional and move to suppress any contraband uncovered from the search as fruit of the poisonous tree. When police have probable cause to believe that there is contraband in someone's car, they man only search compartments of that car that realistically could contain the contraband that they have probable cause to believe is in your car. Let's say hypothetically, cops received an anonymous tip that a person in a green van with a MN license plate was selling stolen televisions out of that van. The police spot a green van that matches the description that the anonymous tipster provided. This alone could engender the probable cause necessary for a police officer to stop and search the vehicle. However, the police officer in this hypothetical would only be able to search areas of the van that realistically could contain the televisions—meaning, the officer couldn't search the center console or other small compartments in the car that could not realistically fit a television. You should definitely speak with your lawyer about the circumstances of the stop and determine whether it can be attacked as an unconstitutional search and seizure. In that case, anything that resulted from a potentially illegal stop can and should be suppressed. I hope this helps.
Q. What are the proper steps/rules for collecting video evidence and where does the chain of command begin?

A: The chain of custody typically starts once information is handed off from store employees to law enforcement. However, the chain of custody can include store employees who are either store detectives or security, or some type of asset protection specialist. Most major retailers have their own dedicated asset protection team dedicated to catching and deterring theft, and if a crime is reported, the chain of custody begins once these internal store detectives start investigating and collecting evidence in order to submit to law enforcement. The three week lapse suggests that there was some type of internal store investigation prior to the case being handed off to law enforcement in anticipation of prosecution (major retailers will usually conduct their own store investigation and prepare an "internal apprehension report" and send that off to law enforcement to pursue actual charges). I recently had a case alleging theft at a major department store with very sloppy chain of custody handling, and according to that store, their internal security/detectives (which I cited to underscore the chain of custody issues in that investigation) have the following duties: "Prepare prompt and complete reports relative to all theft incidents, merchandise recoveries, accident investigations, audits, and other activities as assigned by the Asset Protection/Loss Prevention Manager. Have knowledge of and maintain strict compliance with the law and company policies concerning apprehensions, searches and seizures, and the preservation of evidence." So in short, if they are just regular employees, then the chain of custody generally begins once those ordinary employees hand off evidence to law enforcement. If the store employees are some type of internal store detectives, the chain of custody begins when those store detectives begin collecting and handling evidence to forward to police/law enforcement. In any case, regular employees can be called to testify as witnesses. The State need not call all employees who alleged to have witnessed the crime, but they will have to call at least one employee who is familiar with the store surroundings to take the stand to authenticate the video (i.e. the prosecution will likely ask something along the lines of "is that is an accurate depiction of _____ store #____ located at _________ on ___ day?"). I hope this helps.
View More Answers
›